Home
Blends for Pregnancy & Children
Contact Us
Shipping & Ordering Info
What is "True Aromatherapy"?
and other FAQs
-View Shopping Cart / Checkout-

More Aromatherapy Products
Aromatherapy Starter Kit
Our aromatherapy starter kit includes a jute carrying case and 8 essential oils - lavender, bergamot, cedar, clary sage, eucalyptus radiata, sweet orange, peppermint & tea tree (all 10 ml. size). $71 if purchased separately.
Aromatherapy Starter Kit $59.95
Gratitude Anointing oil & Bracelet

If you've read The Secret, then you know the power of Gratitude. Use our oil with the bracelet to help you remember to be grateful for all that you have and to attract all that you need.

Bracelet is available in red (shown), maroon, blue & white.

Gratitude Set with red bracelet
$19.95
-Add to cart-
Gratitude Set with maroon bracelet
$19.95
-Add to cart-
Gratitude Set with blue bracelet
$19.95
-Add to cart-
Gratitude Set with white bracelet
$19.95
-Add to cart-

Simple Abundance® is the registered trademark of Simple Abundance Inc. and is used with permission.

Six Principle Set

Our six principle set is based on the principles outlined in the book Simple Abundance by Sarah Ban Breathnach. These six anointing oils will aid in your work with them. As you work on each one allow the scent to bring them closer. Gratitude, Simplicity, Order, Harmony, Beauty, and Joy.

For more information on "Simple Abundance®" and the author click here: http://www.simpleabundance.com/

Six Principle Set

$64.95
Your Secret Weapon™

So what is "Your Secret Weapon™?" It's a personal aromatherapy diffuser; small enough to fit into your pocket or purse. when you need an aromatherapy "pick up," just pull it out and take a whiff. The first of these, that we introduced last year, is the lavender. It's base is filled with dried lavender flowers. The scent is amplified with lavender essential oil. It comes packaged in a organza bag with a 5ml bottle of lavender essential oil, so that you can "recharge" the weapon as needed.
Now also available in "Brilliance" and "Diva"

Your Secret Weapon™ - Lavender $19.95

currently unavailable

Your Secret Weapon™ - Brilliance $19.95

currently unavailable

Your Secret Weapon™ - Diva $19.95

currently unavailable
Reflexology Roll On

The soles of the feet are one of the best places for essential oils to be absorbed. The skin on the feet is a bit tougher so it is possible to use a stronger aromatic blend.
This is aromatherapy at a more "medicinal" level.

Immune Building Reflexology Roll On
- This unique immune building blend is a great way to keep yourself healthy. ingredients: organic fractionated coconut & jojoba oils, tea tree, rosewood, palmarosa, geranium, clove bud, & thyme (red) essential oils.

10 ml $12.95

Flash Forward Reflexology Roll On
- Roll on the feet to get relief from the symptoms of menopause - especially hot flashes! ingredients: organic fractionated coconut & jojoba oils, bergamot, cypress, clary sage, geranium, & vitex essential oils.

10 ml $12.95

Hypertension Relief Reflexology Roll On - Natural help for hypertension ingredients: organic fractionated coconut & jojoba oils, litsea cubeba, lemon, marjoram, juniper, lavender, & ylang ylang complete essential oils.
10 ml $12.95
-Add to cart-
Anti-Inflammation Reflexology Roll On - For all types of inflammation ingredients: organic fractionated coconut & jojoba oils, German chamomile, lemongrass, blue tansy, St. John's wort, & yarrow essential oils.
10 ml $12.95
-Add to cart-
Slick Sticks

What's a Slick Stick? It's a "solid lotion" moisturizer! Just glide it on, and the "lotion" melts on your skin leaving just the right amount. Use in place of body oil, cream or lotion. Also, can be used for massage.

After Sun Slick Stick

$6.95

Virgin Coconut Slick Stick

$6.95

Cocoa Mint Slick Stick

$6.95

Candles -View Shopping Cart / Checkout-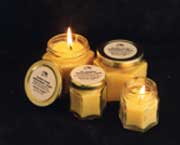 All candles are made with beeswax and palm oil. They are "true aromatherapy" as they
are scented only with pure essential oils. The wicks have a zinc core. They contain NO petroleum, lead or synthetic products. They are among the safest to burn.
The covered jar helps keep the essential oils
from evaporating when not in use. Remember to keep
the wicks trimmed and don't leave unattended when in use.
Available in two sizes: Small (in a 1 1/2 oz. jar)
and Large (in a 4 oz. jar).
-View Shopping Cart / Checkout-