Home
Blends for Pregnancy & Children
Contact Us
Shipping & Ordering Info
What is "True Aromatherapy"?
and other FAQs

Green Tea Herbal Concentrate
from Pure Inventions™
Although we are first and foremost an aromatherapy company, we saw these products and knew they would be of interest to many of our customers.
In order to get the full benefits from green tea one would have to drink 6 to 8 cups each day!

One dropper of this Green Tea Herbal Concentrate is the equivalent to approximately 12 cups of regularly brewed green tea. You can add it to hot water and drink it as a tea, or add it to your water bottle (hydrates and tastes great!). Each bottle contains 60 servings.

Scientific studies have shown that green tea is a powerful antioxidant. Consuming green tea may:
Fight free radical damage
Preserve younger looking skin
Block carbohydrate absorption
Maintain healthy cholesterol
Promote weight loss & energy
Help balance blood sugar & burn fat
Pure Inventions™ Green Tea Herbal Concentrates are caffeine free, sugar free, contain no artificial sweetener or derivates. They come in 6 flavors.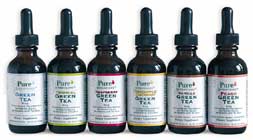 Ingredients: Water, vegetable glycerin, green tea extract, lo han® extract (fruit), lotus extract (leaf), stevia extract (leaf), kudzu extract (root), Chinese licorice extract (root), natural flavors.
Also from Pure Inventions

Specialty Formulas &
Antioxidant Fruit Extracts

D3+ - Liquid sunshine! Vitamin D supplement with added benefit of green tea. Each serving contains 1000 IUs of Vitamin D3.
2 oz.
29.95
not available at this time
Tranquility - A calming blend of chamomile, passionflower & magnesium. Relax and de-stress.
2 oz.
29.95
-Add to cart-
Healthy Liver - a daily detox blend for liver, skin & immune support
2 oz.
32.95
-Add to cart-
Pomegranate + Acai Berry - Pomegranate with Acai Berry extract: Pomegranates are high in antioxidants & Acai berries are known to be one of the most powerful & nutritious foods.
4 oz.
32.95
-Add to cart-
Blueberry + White Tea - Blueberry with White Tea: High in antioxidants, sweet silky flavor. Supports vision, memory, concentration, & focus.
4 oz.
32.95
-Add to cart-
Cranberry + Elderberry - Powerful antioxident & immune support. Enjoy the tart and sweet flavors of Cranberries!
4 oz.
32.95
-Add to cart-
Wild Cherry Apple + Resveratrol - Promotes good health & well-being. Enjoy the sweet taste of cherries which contain anthocyanins, antioxidents & flavanoids.
4 oz.
32.95
-Add to cart-
Night -

SLEEP: • Supports restful sleep • Ideal blend of Melatonin, Valerian root and L-Theanine for restful sleep • Essential oils and plant extracts

4 oz.
32.95
-Add to cart-
Hair Skin & Nails -

REJUVENATE: • Supports and maintains healthy hair, skin and nails • Highly absorbable form of Biotin and Vitamin C for the optimal effectiveness • Supports collagen production for beautiful skin • Natural botanicals that support strong nails, healthy skin and shiny hair

4 oz.
29.95
-Add to cart-
Fit & Slender -

WEIGHT MANAGEMENT: • Green Coffee Extract: Metabolizes carbs and breaks down fatty acids • Garcinia Cambogia helps curb appetite and inhibits fat production • Caralluma fruit helps curb appetite • Abundant antioxidant benefits

4 oz.
32.95
-Add to cart-
-View Shopping Cart / Checkout-